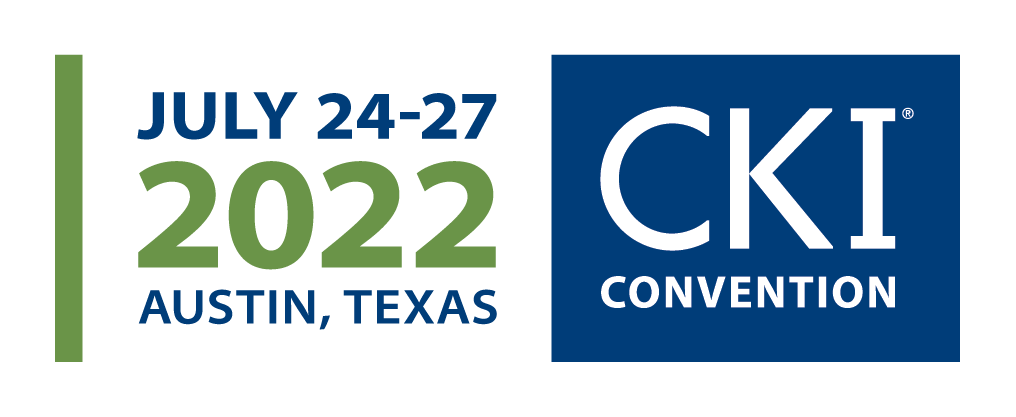 .
Attend the 66th Annual Circle K International Convention in Austin, Texas, 
July 24-27, 2022.
Please note that all convention attendees are required to stay at the convention hotel, unless given explicit permission by the CKI Director to stay elsewhere.


2022 Circle K International Convention Virtual Option
We are excited to bring portions of Circle K International's 2022 Convention virtually to those members who cannot join us in person. The convention's Opening Session, keynote address, Caucus of the Whole, House of Delegates and the Awards session will all be streamed for virtual participants.
Click here to register for virtual attendance.
Please note the current COVID-19 Prevention/Health and Safety Measures:

Circle K International has adopted the meeting guidelines of the World Health Organization (WHO) and the U.S. Centers for Disease Control and Prevention (CDC). We intend to meet or exceed every rule for pre-meeting testing and preparation, follow guidelines for suggested spacing and social distancing during meals and meetings, and offer limited access to only those individuals who need to attend. 

1. All attendees must attest that they have received vaccines acceptable to the World Health Organization, or received a negative Covid test within 5 days of the first day of meetings. This means that an attendee can truthfully attest that "I have received my complete vaccine regimen (2 shots for Pfizer, Moderna, AstraZeneca, Covaxin, Covishield, Sinopharm, Sinovac, or Novovax/Covovax, or 1 shot for Johnson and Johnson), and 14 days or more has passed since my final shot or have tested for COVID-19 and received a negative test result within 5 days of the first day that the attendee will be attending meetings."
2. All non-staff attendees attending the meetings shall sign a waiver of COVID-19 claims.

3. Any attendee who has tested positive in the last 14 days for COVID-19 is prohibited from attending the meetings unless they provide proof of two negative tests since contracting COVID-19.
4. Any attendee who has not received the vaccines as stated above and has been knowingly exposed to an individual who is positive for COVID-19 within 10 days prior to the meetings is prohibited from attending the meetings.
5. Kiwanis will have COVID-19 testing kits available at the convention. If an attendee feels ill during the convention, the attendee agrees to obtain a testing kit from Kiwanis staff, perform the test and report the results to staff.  Any attendee who tests positive will be prohibited from attending events in person and authorizes Kiwanis to inform individuals who were in close contact with the attendee about the positive test. 
6. Currently, there is no mask requirement in Indianapolis, Indiana. The expectation is that masks will not be required at any event during the convention. However, if any mask requirement is in place at the time the convention is held, attendees agree to comply with the requirement and wear a face covering as required by law.
7. All attendees agree to abide by strict social distancing protocols established by the hotel, meeting and event venues and Kiwanis at the meetings.
8. All attendees agree to regularly wash their hands. Hand sanitizer will be supplied at the meetings