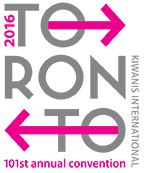 Join fellow Kiwanians June 23–26 in Toronto, Ontario, Canada!
Your convention registration
You may register your spouse/partner, guest or another member of your club from your login.
If your spouse/partner belongs to a different club, they must register separately.
Your convention schedule
Your prepaid registration selections, including ticketed events, will be loaded into your online convention schedule for you (under the My Schedule tab, visible when logged in). You may add personal, club or district events to your schedule at any time. Personal schedules will remain open beyond the end of convention to allow for post-convention activities.
About the schedule tool:
Add workshops to your schedule using this tool (coming soon).
Tours cannot be reserved through the schedule tool.
You may not request a refund or edit your ticketed events selections through the schedule tool.
Changes made to your online schedule are not reflected in your ticket packet or in your method of payment.
The schedule is subject to change at any time. Update your schedule near the start of convention to capture any changes.
---
If you need to change or cancel any selections from your original convention registration, you must contact registration@kiwanis.org.  Cancellations are subject to the terms listed on the convention registration form.